Leverage the potential of NextGen Video Collaboration


Experience the real-life interactions
in your Digital Workplace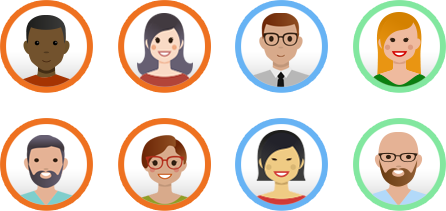 Switch to advanced video collaboration mode!
Who has never dreamed of living a hyper-realistic remote collaboration experience?
Enable Fusion mode and communicate freely within the one space without disturbing participants outside your discussion group. Interactions are optimized and allow large teams to collaborate remotely. TixeoFusion provides a feeling close to a face-to-face meeting and thus arouses the commitment of your employees.
The power of advanced video collaboration for new uses.
The hyper-realistic design of the TixeoFusion mode is particularly suitable for teams wishing to maintain quality, efficiency and flexibility in their work.
Project group, teleworking
Communicating between employees and managing projects remotely is never easy. TixeoFusion helps you manage your teams as you would at the office. For team teleworking, TixeoFusion can be used to replace your openspace without generating any inconveniences (disruption, noises, …)
Crisis & war rooms
Some critical situations require perfect synchronization between team members. TixeoFusion adapts to sensitive missions and allows a global management of operations while offering a targeted management in several distinct action groups.
Training, workshop
Training often takes the form of simple webinars where individuality is set aside. With TixeoFusion you provide your training to as many people as possible. Create working groups or easily follow up on individual requests without disturbing the rest of the group.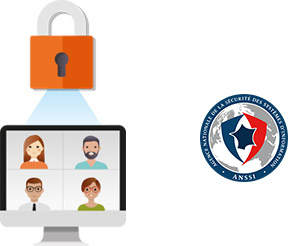 Tixeo safaety, certified and qualified by ANSSI*
With TixeoFusion you benefit from a powerful advanced collaboration feature while enjoying unsurpassed level of privacy in the sector of videoconferencing.
Tixeo technology (certified and qualified by ANSSI*) incorporates innovative security mechanisms that protect your communications (video, audio and data) from any eavesdropping.
*ANSSI : National Cybersecurity Agency of France
Combine your discussion groups easily
The TixeoFusion mode is included in all Tixeo offers. It provides a video collaboration space in which participants appear as video bubbles.
Create a discussion group simply by selecting the video bubbles of the participants you want to discuss with.
Each group is assigned a different colour, making it easier to identify them. The number of discussion groups is unlimited within a meeting.
With a simple click, you can remove or remove a participant from the group.
If you prefer to work quietly while being connected to the meeting, simply do not integrate any groups: you remain connected to your collaborators without hearing them